Ashland County Fishing Report
Check out the Chequamegon Bay FISHING Brochure. It has everything from fish species, places to fish, tying knots lake depth and much more. Also the Ashland County Inland Lakes Fishing Guide has lake names, descriptions and fish species.  Stop by our office or order your brochure today! info@visitashland.com
Here are downloadable versions of the Fishing Brochures.  These are large files so it might take a minute.  Remember if you would like a hard copy e-mail info@visitashland.com
Fishing Report 
River Rock reports: 09/21/2023
Coho Craze!!!! The Coho are moving into the Bay and are running larger that ever before!! We have had reports of 30+ inchers being caught!! They are being caught in areas of 20-60' depth and moving towards the stream mouths.
Anglers are still fishing in the islands and are having great success with trolling! Lake Trout are still being caught out by Long island and through to Outer island with some Brown trout in the mix. Reminder that Lake Trout fishing closes at the end of the month, so get out and fish for them while you can! We are seeing that from Washburn north towards to Long Island and back toward the Sioux and Onion river area is producing great catching! As the waters start to cool, they will make their way towards the stream mouths.  Walleye are being caught in the deeper drop offs along rock beds, and in the evening along the shoreline.
Fall fishing is in full swing!!
Looking for a Hunting Information?
Lake Superior Webcams
Please call our local bait shops for the most current fishing details.
River Rock Inn & Bait Shop, located at 1200 W. Lake Shore Drive (U.S. Highway 2), in Ashland where you can stop in and see their wide variety of live bait, fishing tackle, gear, accessories, fresh and smoked fish from Lake Superior. 715-682-3232
Anglers All, located at 2803 E. Lake Shore Drive (U.S. Highway 2) in Ashland, is a full-service tackle and fly shop offering a huge selection of baits and tackle for year-round fishing. For the most complete and up-to-date fishing report, just give them a call at 715-682-5754, and they will gladly keep you informed!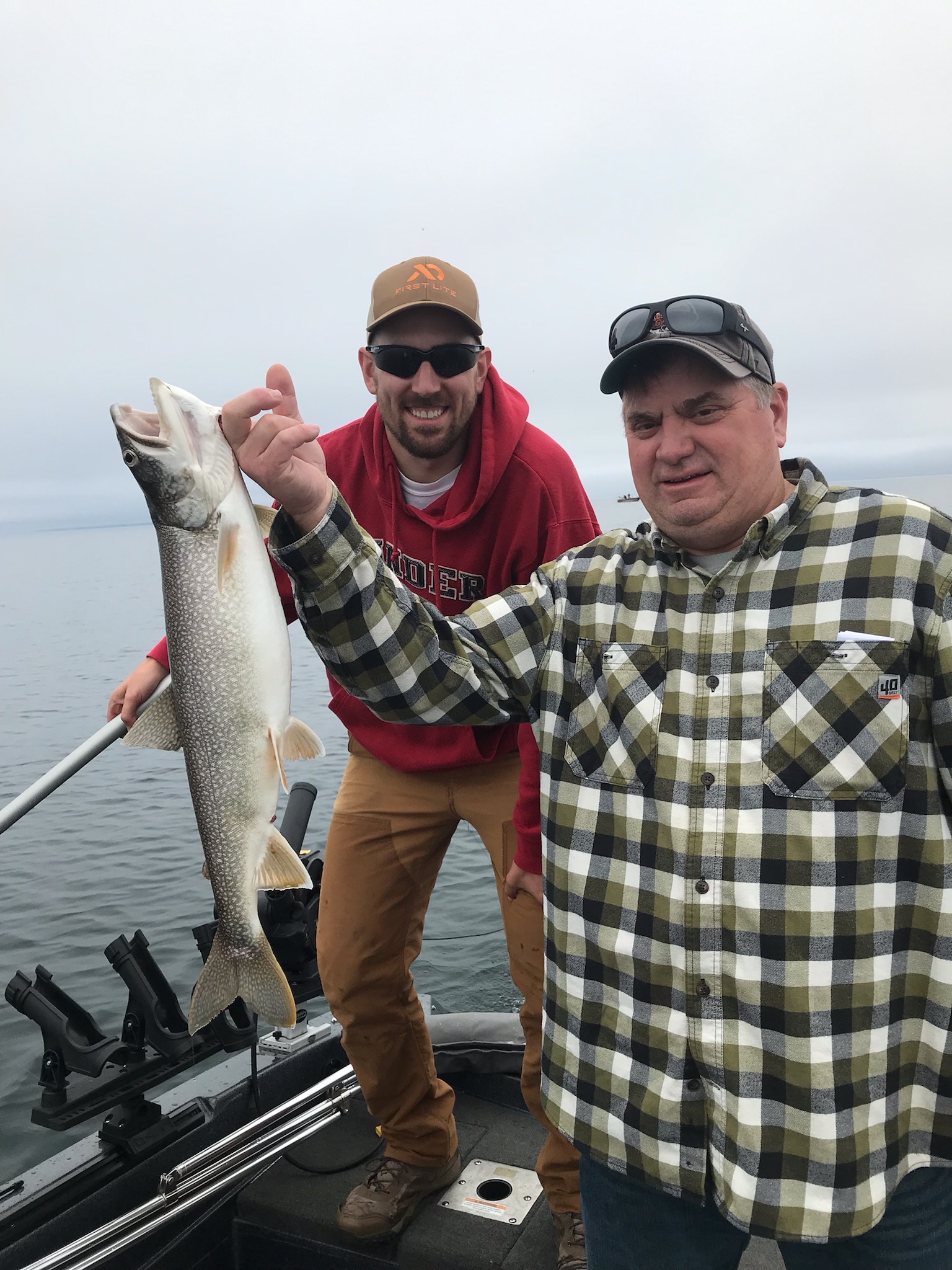 DO I NEED A LICENSE?
Wisconsin residents and nonresidents who are 16 years or older need a valid 2021-2022 fishing license to fish in any waters of the state. You can easily purchase a fishing license on the DNR Go Wild Web page.
WHERE CAN I FISH?
As of May 1, all State-owned launches and access points are open. Please check with individual parks regarding changes to shore fishing access and boat launches. Anglers are encouraged to use the DNR boat and shore fishing access tool to locate access points close to home and within their community. Anglers should contact their local municipalities for more information regarding localized closures and access changes to boat launches outside of state parks and properties.
WHAT CAN I FISH?
All regulations and season dates still apply. Check the 2020-2021 Guide to Wisconsin Hook & Line Fishing Regulations for specific information about where you plan to fish.
WHAT KIND OF BAIT CAN I USE?
It depends on your fishing location and the species you are pursuing. Make sure to check the regulations for your location.
ARE THE BOAT LAUNCHES IN STATE PARKS NOW OPEN?
Yes, boat launches within open state parks are open. However, all state parks have updated hours of operation from 6am to 7pm and will be closed on Wednesdays. As such, anglers who want to fish within a state park on Wednesday may still do so that day but will be required to walk in if they are accessing water via the state park. Hour of operation restrictions will still apply. All restrooms, water fountains, buildings, and facilities are also closed on all state parks. Northern forests, flowages, and the Lower Wisconsin Riverway system are exempt from these changes and remain open from 6am to 11pm, 7 days a week.
I DON'T SEE ANY TRASH BARRELS AT PARKS/LAUNCHES?
The DNR urges visitors to do their part when visiting a park or boat launch. Most Wisconsin state parks, forests, launch sites and other day-use areas do not have garbage or recycling bins. When you visit a park or launch, you will need to take your garbage, pet waste, and recyclables home with you. We all play a vital role in taking care of our natural resources.
CAN I FISH IN WISCONSIN IF I AM A NON-RESIDENT?
All anglers must hold a valid 2021-2022 fishing license. Non-residents can easily purchase a license at DNR Go Wild web page. Make sure to check with your state's emergency orders and travel restrictions. Under Gov. Evers' Safer at Home order we encourage the public to fish within your local community.
Fishing is always a thrilling adventure in the Ashland area!
Chequamegon Bay is famous for its world-class smallmouth bass fishing. The 12-mile-long bay's rock piles and breakwater structures make for perfect bass habitat.
Wisconsin residents and non-residents 16 years of age and up will need a fishing license to fish any waters in the state.  An annual license costs $20.  Go online at http://dnr.wi.gov/topic/fishing/regulations/hookline.html for more details.
Residents born before Jan. 1, 1927, don't need a fishing license.  They do need to carry proof of their age when fishing, however.
State residents who are members of the U.S. Armed Forces on active duty are entitled to obtain a free license when they go on furlough or leave.
 New this year
Motor trolling is now legal on all inland waters with one hook, bait, or lure and – depending on location – with up to three hooks, baits, or lures, according to the DNR website.
Most inland lakes and rivers within the Ceded Territory (which includes Ashland County) have a daily bag limit of 3 walleye.
ALSO – To see a real-time image of Chequamegon Bay, check out Northern State Bank's Bay Cam.
And don't miss the really cool new Live Cam overlooking the Xcel Energy "hot pond" on Chequamegon Bay brought to you by River Rock Inn & Bait Shop, 1200 W. Lake Shore Drive, Ashland.
Watch this great episode of "John Gillespie's Waters & Woods" from Feb. 6 focusing on ice fishing near Ashland. Josh Teigen of Josh Teigen's Guide Service in Iron River took the amiable TV host out on Chequamegon Bay where Gillespie said he had one of his "most enjoyable ice fishing trips of the year."
You'll want to see this fun episode of "Larry Smith Outdoors" as the Berlin, Wis., guide and outdoors-man teams up with Tommy Hicks of Ashland and Beyond the Catch Guide Service to tackle Chequamegon Bay. Trout are on the menu along with whitefish when Larry and Tommy head out on the ice in "one of the prettiest parts of the state."
To read about the annual smelt run in Chequamegon Bay and the smelting rules and regulations, please go to our Smelt Report.
Here's an article by Andrew Ragas of NorthwoodsBass.com about the excellent smallmouth bass fishery right here in Chequamegon Bay!  Ragas spent a day out on the water with Ashland native Nate Baron of Up North Guide Service.
Highly recommended reading: Don't miss this very well-written story by Tom Hazelton about a day spent fly-fishing out on Chequamegon Bay with Luke Kavajecz of Anglers All.
Another great article on bass fishing Chequamegon Bay saltwater-style, this one by Duluth News Tribune outdoors writer Sam Cook. Read all about "Barefootin' the bay."
In August 2014, Ashland fishing guide and Anglers All proprietor Roger LaPenter was inducted into the Fresh Water Fishing Hall of Fame.
Learn more about the great fishing here in Chequamegon Bay!