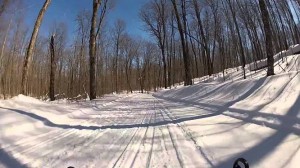 Snowmobilers enjoy the well-maintained trails near Clam Lake. Ashland County offers more than 220 miles of snowmobile trails.
Ashland County Snowmobile Trails Report for February 5, 2016
The Ashland County snowmobile trails are OPEN and in good to very good condition.

All of the Ashland County trails are currently in good, rideable shape and will be "extremely fine" in time for this coming weekend, Feb. 6-7.
Ashland County received a significant amount of new snow Tuesday afternoon and overnight, with Marengo seeing a foot of snowfall, the Mellen area getting 8-12 inches of snow, and Butternut receiving 8 inches. In the northern portion of the county, the Ashland area received about 10 inches of snow.
Groomers report it will be Friday or possibly early Saturday before the county's more than 220 miles of trails are completely groomed. Trails 9 and 13 will be groomed today, Friday, Feb. 5.
The Tri-County Recreational Corridor from Ashland west to Superior is currently being groomed three times a week and is in very good condition. It was last groomed on Thursday, Feb. 4.

NOTE: A temporary detour route has been posted on Trail 9 from Ashland to Sanborn.
The Tri-County Recreational Corridor, a 62-mile stretch of abandoned railroad right-of-way running from Ashland to Superior, is always OPEN in the winter.
If you would like a Snowmobile Map/Brochure for Ashland County, let us know and we will be happy to mail one out to you.  Call us at 715/682-2500 or toll-free at 1-800-284-9484.  Or you may view the snowmobile/ATV trail map in PDF form here (ashcosnowmap1314.pdf)
Click here for the City of Ashland snowmobile trail routes.
The Northern Great Lakes Visitor Center is a great place to stop on your snowmobiling journey. The Center offers a special area to warm or dry your gloves and hang your helmet while exploring the facility's displays and climbing the five-story observation tower which showcases the area. The Visitor Center is located off U.S. Highway 2 near the Tri-County Recreational Corridor.
Reminder: There is NO snowmobiling allowed from Ashland to Bad River/Odanah as snowmobiling is not permitted on reservation land.  However, snowmobiling is allowed from Bad River east to the Upper Peninsula of Michigan.
In addition to snowmobiling, Ashland County offers cross-country skiing, hiking, snowshoeing, ice fishing, and sledding. And be sure to check listings on our website, www.visitashland.com, for information on all of our upcoming outdoor events, including the 6th Annual King of the Bay Snowmobile Drag Races set for Feb. 20, 2016, at Maslowski Beach on Lake Superior.
The Northwest Wisconsin ATV & Snowmobile Corridor Trail Map features Ashland, Burnett, Douglas, Iron, Rusk, Barron, Chippewa, Washburn, Price, and Sawyer counties. This map will help you plan a trip to Northwest Wisconsin, and individual county maps will help you navigate the trails.
See for yourself all of the great places you can visit on the seat of an ATV or snowmobile. Click here or on the map cover image to the left to view the digital Northwest Wisconsin ATV & Snowmobile Corridor Map. To order your FREE print copy of the Northwest Wisconsin ATV & Snowmobile Corridor Map, click here.
Click here for the Bayfield Winter Recreation Report.
Effective July 1, 2015, Wisconsin snowmobile registration will cost $30.00 for three years.
In addition, all snowmobiles will be required to have an annual trail pass to operate on a public trail or corridor.
Trail passes will cost non-club/non-Association of Wisconsin Snowmobile Clubs members $30.00 and can only be purchased through the DNR.
Members who belong to both a snowmobile club and the AWSC will be able to buy the trail pass for $10.00.
For more information on the Wisconsin Snowmobile Trail Pass, please visit the AWSC website at www.awsc.org or the DNR website at dnr.wi.gov.
Out-of-state snowmobile passes are required for non-residents and can be purchased for $50.00 at the following locations:
ASHLAND
Anglers All, 2803 E. Lake Shore Drive
DNR Service Center, 2501 Golf Course Road
River Rock Inn & Bait Shop, 1200 W. Lake Shore Drive
Walmart Supercenter, Sporting Goods Dept., 2500 E. Lake Shore Drive
CLAM LAKE
Clam Lake Junction, 60967 State Hwy. 77
Deb's Y Go By, 60998 State Hwy. 77
BUTTERNUT
Butternut Feed Store, 121 N. Main Street
GLIDDEN
The Bear Crossing, 107 E. Broadway
MELLEN
Midland Services Mellen, 101 Wilderness Drive
Northland Foods/Hardware Hank, 108 S. Main Street